What does Connecting Opportunities offer?
Refugees and other migrants sometimes struggle to find work in the UK.
Connecting Opportunities offers people who are thinking about work the chance to
build their confidence,
improve their English,
making contacts and friends in their local community, and
find out about additional help and support available to them
LASSN's volunteers are matched with a refugee or migrant and meet up with them for a couple of hours each week, building a relationship with them, and encouraging them to try new things.
Volunteers receive training tailored to their role and receive on-going support from the Volunteers Manager.
Connecting Opportunities works with new migrants to develop their skills and opportunities to find work and be part of the local community. Connecting Opportunities is funded by the European Social Fund and the National Lottery Community Fund.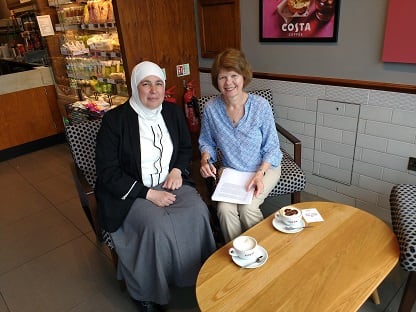 It's been great fun, and a learning and rewarding experience for me. The training sessions really helped me feel confident about what I'm doing, and the LASSN team are really encouraging and always there for support. I've had such a positive experience on every step of my befriending journey, I'd recommend it to anyone!
What makes this different to LASSN's other befriending project?
This project works exclusively with refugees and other migrants who have a right to work in the UK and is focused on helping people build their confidence and skills to get into work.
We recently delivered a short presentation on how we do Mentoring and Befriending at LASSN, and to help our Connecting Opportunities partners think through how they might approach it.
In particular we were keen to show how our way of doing Mentoring and Befriending mesh with our values.
If you'd like to learn more about how we do mentoring and befriending at LASSN, have a look at this short presentation.
The difference it makes
Sara – Volunteer Befriender
Our experience of Befriending so far has been so good. Meeting Ewelina was a wonderful experience as it gave me the opportunity to meet someone from another country and learn new things. Ewelina came from Poland in 2016 and she joined LASSN in 2017. Our first meeting was at Cafe Nero in April 2019. We were so excited to meet one another and when we met it was like we'd met somewhere before. We talked for an hour and drank tea. Since then we meet every week we go out for a cuppa, snacks and dinners. We try to encourage, support and advice each other, whether it be in a face to face meeting or just a call or text. Being an immigrant or refuge is not an easy task. Ewelina left her country, family and friends to start a new life in England. In the beginning it was so difficult for her to overcome the language and cultural barriers and make new friends.
Ewelina- CO Befriendee
When I joined LASSN I first met Emily, the Volunteers Manager at Connecting Opportunities. Emily presented Sara as my befriender and since then, Sara has helped me to overcome language barriers, and I am now more confident in speaking English. Also, she supports me to improve my writing and listening skills and to find volunteer work in the health care sector. I have found a child-minder for my little daughter – this was one of my goals to achieve and I already achieved it. We are so grateful to God for giving us this opportunity to meet each other and make such a blessed friendship.
52 volunteers were matched with 78 people who wanted to move closer to work
30% of all CO volunteers are themselves from migrant backgrounds
Women-focused ways of working were developed like Tea & Talk Women's Group – a weekly social group in the city centre where women meet, practice speaking English and build their confidence; Confidence & Connections programme – a 6 week course to build self-confidence and relationships; and Mindful Movement and Yoga – safe spaces for women to exercise and make connections
New group activities were developed, including Tea, Talk and Trips: a weekly social Group exploring attractions in the city centre
volunteer mentors were matched with…
community outreach sessions