We're using Refugee Week as a way to explain how the work of LASSN has changed during Lockdown. Each day we're offering examples of how we've adapted what we do, to make sure asylum seekers and refugees and other migrants at risk of harm remain supported, empowered, and integrated.
What's changed?
Like all the other LASSN projects that depend on face to face contact and support, Lockdown has been very disruptive. New referrals have been put on hold and we've suspended volunteer recruitment until we can do this safely.
However, we've also been able to ensure that people who are still waiting to be matched with a CO befriender have not been left on their own. We've trained and deployed existing volunteers to become temporary 'CO Telephone Befrienders' to make sure everyone on CO Befriending waiting list has some form of contact during lockdown.
As cafes and trips out are no longer possible, Volunteer Befrienders are now reliant on phone contact, Whatsapp, or Zoom to keep in touch. Everyone has been offered extra phone credit to help to make this happen and some matches are speaking more regularly now they are not meeting face-to-face!
We've developed a weekly peer-support session for all LASSN volunteers called 'Monday Meet Up' to help share ideas and sharpen our online support skills. The online learning resources developed by English at Home have been particularly useful for Befrienders looking for virtual activities to do with their Befriendee
A few participants decided to postpone Befriending for the time being – because they are too busy with childcare responsibilities, or – due to the emotional strain of Covid-19 – they just don't feel able to focus on Befriending right now
Our 'Tea and Talk' sessions have moved online, thanks to the energy and enthusiasm of our brilliant volunteers. Taking a large-ish social group running in a massive cafe in town on line is no small feat – and takes a lot of energy to rapidly overcome the barriers of confidence, technical knowledge, and equipment to get online, get into the meeting, feel welcomed and supported and for it also to be fun!
We've done this by focusing on what's important to the folks who attend tea and talk – using a 'Tea & Talk' Whatsapp group to make communication easier and to choose topics for conversation.
We've also made us of a lot of visual aids to facilitate conversations, i.e. 'Show and Tell': sharing an object that is special to you with the group, and explaining why it's special; sharing decorations made during Ramadan, photos and recipes. "Thank you…You don't know how much I enjoy these lovely two hour talks. Time really flies."
I'm Laura . I'm Egyptian. I have been in the UK since 2014. I came first to North Wales. I stayed 2.5 years there . I felt so lonely . I didn't know anybody there. Nobody asked about me . I felt very depressed. After this my husband came to Leeds and started a new job – I was pregnant so I was busy. When my little one entered the school I heard about this project by luck from the mother of my daughter's friend. From this moment the sun started to shine . I started to see and recognise new people. I started to make friends. I went to the café for 'Tea & Talk'. It's a good chance to make friends and be friendly . It's a good chance to know new places in Leeds and speak English without any fears, which will lead to in the future being able to speak fluently. It's a good chance to build my confidence as well. I also started an English course to improve my language. The project helped me a lot and really changed my life.

Connecting Opportunities has helped me a lot as well during lockdown. We talk every week for 2 hours in our 'Tea & Talk' online group. It's very helpful to have 2 hours just to myself, taking a break from my life and my children. We talk about everything, and it increases my knowledge about lots of things in the UK. We choose a topic and talk together so it's a good chance to improve my language and vocabulary. The most beautiful thing about it is that these conversations stopped my feelings of loneliness. I felt that I'm lonely and very bored during the lockdown. This feeling decreases when chatting with my friends in conversation. Many thanks to the project and the conversation
We know virtual groups are not for everyone  – for all kinds of reasons – and we make sure that a Tea & Talk volunteer is available to make weekly 1:1 telephone calls to those that prefer it.
We're also working with Touchstone to advertise ongoing mental health/ wellbeing support for participants, including a Wellbeing Support Line, and various online workshops such as "Stress Management" and "Coping with Loss".
What's next?
We can't wait for restrictions to lift more. Shortly before we were all asked to socially distance, WomenCentre helped Tea and Talk participants to explore creative activities – the first session focused on photography and how it can be used to document your day, express how you are feeling, capture a unique moment, and connect with others as well.  Here are some of the brilliant photos that came out of this session.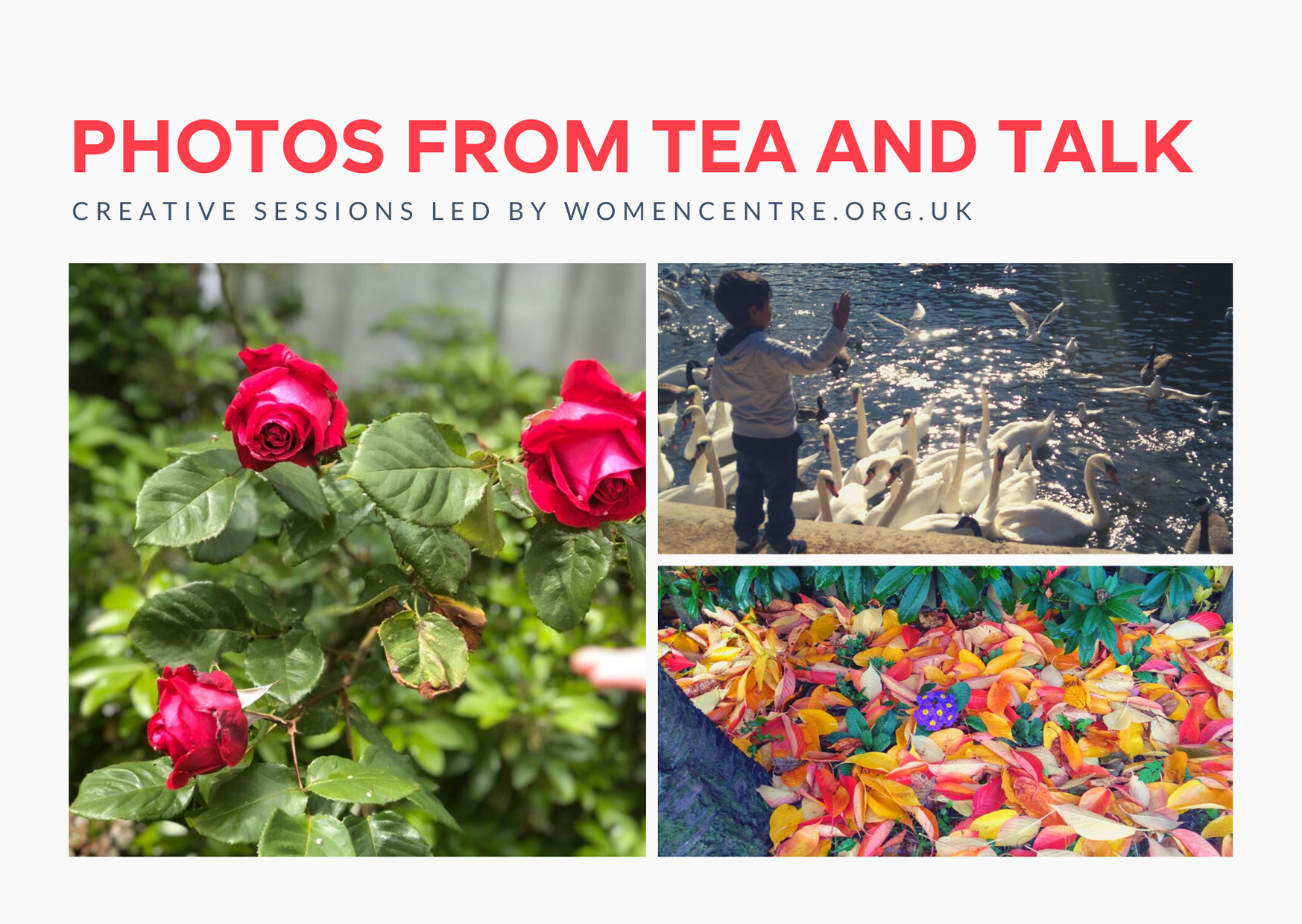 We're planning a 'Cycle Buddies' scheme for when lockdown restrictions are eased. Volunteers have been doing informal telephone interviews with participants to find out what they think of the scheme, and what would help them to start cycling in Leeds. Next we plan to approach local Bike Hubs in order to borrow/hire some bikes for some (socially distanced) group rides this summer.